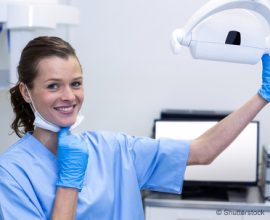 Your friendly hygienist is a certified dental health professional who works as part of a team to care for dental patients. The primary focus of a dental hygienist is upon diagnostic, theraputic and preventative measures to protect the overall oral health of our patients, and to administer a thorough, professional teeth cleaning at each check-up. The knowledge and skills of a dental hygienist are used to educate and motivate patients about dental health, inform the doctor of their initial findings, and then tailor the appropriate methods to the needs of each individual patient.
The hygienist will make a thorough assessment of your oral hygiene and daily routine, including how often you brush and floss, the dental products that you use, and an analysis and discussion of your diet. Once this analysis has been assessed, they can classify your periodontal health and begin to manage dental needs.
Finally, you receive regular professional cleanings from our hygienist—a process commonly referred to as a "clean, scale and polish". This is their main clinical work and it is a preventative measure to prevent potential decay and gum disease. You simply cannot remove the plaque and tartar (calculus) that builds up from simple brushing and flossing as thoroughly as your hygienst can with their dental instruments and tools that are made specifically for this task.
If you would like to speak to one of our dentaly hygienists about their job, call our helpful team at Louisiana Dental Center. Phone: 504-287-4467. Make an appointment or come by our office in Kenner, Louisiana.